The increased digitalization has made access to technology an essential need for modern humans. However, for people living with disabilities, accessing some of the available digital tools is a great challenge that often leaves them behind as they are unable to participate in the highly technologically advanced society fully. Considering that around 15% of the global population is living with a disability, organizations must develop ways to eliminate or reduce barriers to using and accessing technology for individuals with disabilities.
Impact of AI on Digital Accessibility
The current state of technology needs to be more inclusive. Unfortunately, people with disabilities experience barriers that limit them from fully engaging with the digital world and technology. Fortunately, Artificial Intelligence (AI) is offering promising solutions to help improve digital accessibility. Digital accessibility is about designing and creating digital products that users can interact with in a meaningful and equivalent way despite their disability.
Today, multiple tools and features relying on AI to improve accessibility are within grasp. As a result, there is already some change in the lives of users with disabilities and in the work of organizations striving to make their digital products inclusive. Some of the most notable implications of the use of AI in digital accessibility include the following:
Users now have more control over their experience while interacting with devices and digital products, whether they have a disability or not. Features like an auto caption or auto translate make it easy for people who speak different languages to interact or are hard of hearing or deaf to communicate.
The cost and level of effort organizations need to put into actualizing digital accessibility have also been driven down. Tools like Automated Accessibility Remediation have reduced the time, effort, and cost of implementing scaled accessibility changes.
Another implication worth mentioning is that accessibility means that individuals with disabilities are not only limited to being users but can also participate in creating digital products. This is opening opportunities for people with disabilities who previously felt they could not pursue particular aspirations.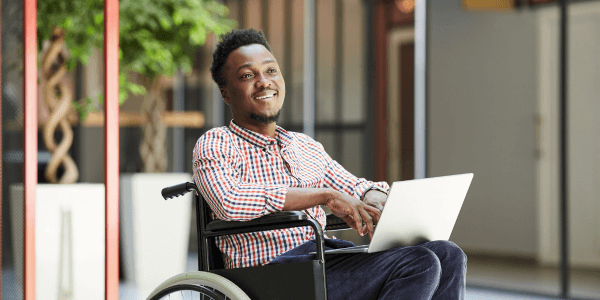 AI-Based Features for Digital Accessibility
How AI is influencing accessibility is visible through features both on connected devices and within applications, websites, and software programs. The common features of AI-powered accessibility compliance solutions include the following:
Automated Speech Recognition (ASR) and Speech Synthesis Technology
This technology is used to translate audio into the text to make content accessible to people with hearing problems. It relies on computer algorithms to process and interpret spoken words and convert them to text. Besides being used by people with disabilities, ASR makes life easy by eliminating the need to type or even learn to write a language, as it can decipher most accents.
Optical Character Reading (OCR)
This technology can recognize texts inside an image, such as scanned documents or photos. It converts any form of an image containing written text (typed, printed, or handwritten) into machine-readable text data. The readable text after that becomes easily accessible to the blind or people with low vision through audio.
Image Recognition Technology
Imagine Recognition Technology is computer mimicry of human vision. It equips machines to categorize and identify data in images and take appropriate action based on the search context. It dynamically creates alternative text for images by analyzing previous data and images and identifies similar images and tagged words.
Machine Learning
Machine learning is an application of AI that allows systems to learn and improve based on trends and experiences without being explicitly programmed. The goal is to develop programs that can access data and use it to learn independently. This helps in identifying accessibility issues within applications or websites and providing the necessary recommendations or solutions to improve accessibility.
Affective Computing
This technology seeks to bridge the gap between human emotions and a computer's ability to assess them during an interaction. Using AI, affective computing gives machines or systems the ability to recognize and interpret human feelings, thus ensuring improved assistance and appropriate responses to users. The logic behind affective computing is that for computers to fully satisfy humans' emotional needs, they must be able to gather clues such as voice tone, facial expressions, and body language. Once the data is collected, the machine uses experiences and pre-accumulated information to adjust its reactions and responses to suit the user's mood.
As seen, AI is an evolving technology with unlimited potential to enhance digital accessibility. More people can now access the digital world thanks to AI, and now more than ever, it is easy for organizations to implement the necessary WCAG 2.1 requirements. However, a study performed in 2020 revealed that 98% of the world's top one million websites reported accessibility failures. This was attributed to the complexity of maintaining compliance across all digital platforms. AI is, however, changing this by automating the design process. For example, AI algorithms can scan web pages or documents to analyze and identify accessibility issues. It also reduces the need for developers to manually remediate a code to make a digital product accessible.
To find out if you meet the required accessibility requirements, get a free compliance audit or learn about our web accessibility solutions.