Everything On
AODA

  Compliance.
What is the AODA and why does it matter?
Accessibility for Ontarians with Disabilities Act (AODA) was introduced in 2005 and is a provincial law in Ontario, Canada that aims to make the province more accessible for people with disabilities. The act sets out specific requirements for businesses and organizations to follow in order to make their services and facilities accessible to people with disabilities.
As a business owner, it is important to understand and comply with the requirements of the AODA. This not only helps to ensure that your business is in compliance with the law, but it also helps to create a more inclusive and welcoming environment for all of your customers, including those with disabilities.
One of the key requirements of the AODA is that businesses must develop and implement accessibility plans. These plans should outline the steps that your business will take to remove barriers and improve accessibility for people with disabilities. This might include things like making physical changes to your premises, such as installing ramps or elevators, or making changes to your website or digital systems to make them more accessible to people with visual or hearing impairments.
Another important requirement of the AODA is that businesses must provide training for their employees on accessibility and on how to interact with customers with disabilities. This training should help your employees to understand the needs of people with disabilities and to provide better service to all of your customers.
Being compliant with AODA not only help with legal compliance but also helps to open up a huge market of customers. People with disabilities in Ontario make up a significant portion of the population and they, like everyone else, have money to spend on goods and services. Compliance with the AODA can help to ensure that your business is accessible to this important customer base, and it can also help to improve your reputation in the community as a business that is inclusive and welcoming to everyone.
In conclusion, compliance with the Accessibility for Ontarians with Disabilities Act is important for any business operating in Ontario. It not only helps to comply with the law but also helps to create a more inclusive environment for all customers and opens up new market opportunities. The government also provides various resources to help businesses understand the requirements and to achieve compliance, so do not hesitate to reach out to them for help.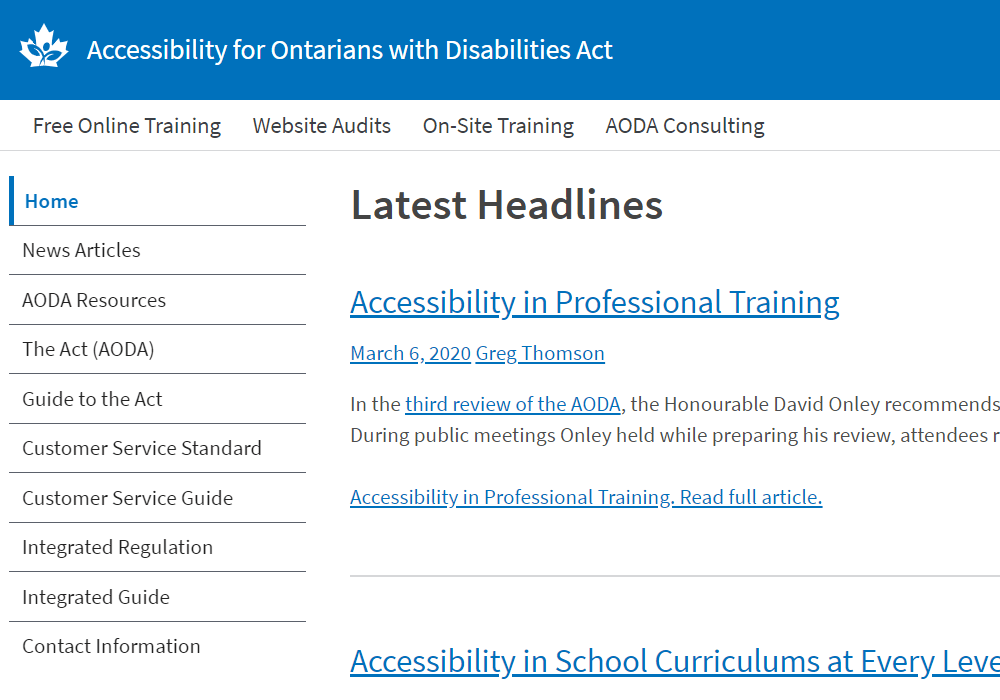 What does the AODA require?
Like most web accessibility legislation, the accessibility standards of AODA are based on the WCAG.
2.0 guidelines from W3C.
The WCAG (Web Content Accessibility Guidelines) is a set of international web accessibility standards that websites must adhere to in order to become accessible. The WCAG consists of 4 principles that act as the foundation for the guidelines' complex requirements. These essential principles are: perceivable, operable, understandable, and robust.
While the WCAG is not a set of laws to be enforced, it is, however, setting the web accessibility standard and is referenced within several worldwide legislation as such for making websites accessible at the mandated level. Those who achieve compliance with the WCAG, achieve compliance with the legislation of their jurisdiction, and this includes those covered by AODA.
But it has some exceptions for content that can't be made accessible:
Some online maps and complex diagrams. In those cases, website owners need to provide an accessible version upon request, but that version might be of lower quality.
Software or programming tools that aren't compatible with accessibility mechanisms and were used to make certain site features.
Web content posted before 2012. If that content is updated, then AODA rules will apply.
AODA has 2-time frames for web-accessible content:
All websites have to reach WCAG 2.0 Level A compliance by January 1st, 2014
Does the AODA affect me?
If your business is registered in Ontario, then yes, AODA applies to you. Part II of AODA states very clearly that its rules apply to all governmental and private websites, whether they are run by individuals or corporations.
AODA also set up the Accessibility Standards Advisory Council to advise the Ontario government about future accessibility policy. The council can recommend reforms and updates to the accessibility requirements laid out in AODA, so it's important for Ontario business owners and website managers to stay up to date with changes to the accessibility standards.
How can you know if a website is AODA compliant?
How are you supposed to know if your website is up to date with web accessibility standards? As a first step, it's crucial that business owners and website managers audit their website using an AODA Compliance Checker like Jib's that provides a detailed report of both accessibility and compliance levels. Once you have a clear understanding of what barriers exist on your website, it becomes simpler to draw up a plan of action and decide which tools are best suited to help you elevate to the proper WCAG and AODA compliance levels.
What if my website doesn't comply?
AODA's accessibility requirements have teeth, so it's not a good idea to ignore them. Failure to comply can result in fines of $50,000 per day or part day for individuals, and fines of up to $100,000 per day or part day for corporations.
AODA contains very specific violation categories as well as penalties for those violations. The three groups of AODA infractions are:
Minor – the lack of specific accessibility requirements. These violations occur when a specific feature on a site is inaccessible to a particular type of disabled person. For instance, text content is incompatible with a screen reader.
Moderate – Lack of "organizational preparedness". This can occur when a company demonstrates a disregard for accessibility standards on its online platforms.
Major – elements that can pose a safety or health risk to persons with disabilities. This category applies more to physical structural issues than online platforms. But it is not inconceivable that a website could be deemed as committing a major level violation. For example, the WCAG's Success Criterion G19 requires minimal light flashes on a webpage to avoid triggering seizures in users with various photo sensitivities. A site with flashing-light features–and no tools to control them–could be considered endangering certain disabled users.
Within these definitions, there is certainly room for interpretation. Whether a violation is minor, moderate, or major, is decided at the legal proceedings following a complaint.
Another factor determining the severity of a violation is the violators' compliance history.
Minor – First offense
Moderate – 2 to 5 offenses
Major – 6 offenses or more
The Ontario government isn't taking these accessibility standards lightly. Failure to comply with the AODA web accessibility rules can result in fines of $50,000 per day or part day for individuals and fines of up to $100,000 per day or part day for corporations.
Find Out Now If Your Website Is WCAG & ADA Compliant