In the realm of healthcare, we continually strive to ensure our services reach the most vulnerable and under-served populations. As healthcare systems increasingly migrate their services online, it becomes essential to make sure our digital platforms are as accessible as our physical ones. A key aspect of this digital accessibility comes in the form of ADA (Americans with Disabilities Act) and WCAG (Web Content Accessibility Guidelines) compliance. ADA/WCAG compliant websites are no longer just a good-to-have feature; they're a necessity. In this article, we delve into the myriad benefits of ensuring ADA/WCAG compliance for your healthcare website.
Legal Requirements and Risk Mitigation
The first, and perhaps the most critical, aspect of ADA/WCAG compliance is its legal mandate. The Department of Justice (DOJ) interprets the ADA to apply to websites, making them a "place of public accommodation." ADA compliance is thus not optional; it's a legal obligation. Non-compliant websites risk litigation, fines, and the potential for significant reputation damage. WCAG guidelines offer a robust framework to achieve ADA compliance and avoid these legal risks.
Enhanced Accessibility for All Users
A healthcare website designed and developed with ADA/WCAG guidelines in mind makes for an overall more accessible and user-friendly site. This doesn't just benefit those with disabilities; it enhances the user experience for everyone. Features such as descriptive alt text for images, transcripts for audio and video content, clear contrast between text and background, and intuitive navigation can greatly enhance a user's ability to understand and engage with your website.
Reaching a Wider Audience
Approximately 15% of the world's population lives with some form of disability, equating to over a billion people. Ensuring ADA/WCAG compliance makes your website accessible to this significant user base, potentially widening your healthcare organization's reach. By considering the needs of all users, regardless of their ability, you demonstrate inclusivity and attract a larger and diverse audience.
Improved SEO Performance
Interestingly, many ADA/WCAG compliant elements, like alternative text for images and transcripts for video content, align directly with SEO best practices. Search engines prioritize websites with these accessible and organized content structures. Hence, making your website ADA/WCAG compliant can have a positive effect on your search rankings, driving more organic traffic to your site.
Improved Reputation and Trust
By making your healthcare website ADA/WCAG compliant, you send a strong message about your organization's commitment to inclusivity and equal access. Patients and their families will appreciate and respect your efforts to provide accessible services. This strengthens your reputation and builds trust, which is especially vital in a sensitive field like healthcare.
Competitive Advantage
Many organizations are still lagging in ADA/WCAG compliance. By ensuring your website meets these standards, you're differentiating your healthcare services and creating a competitive advantage. Potential patients may prefer your services over others based on the accessibility and ease-of-use of your website.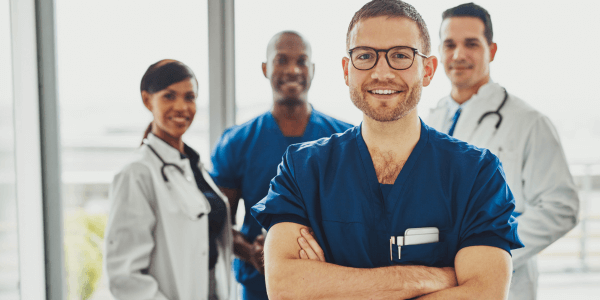 Future-Proofing Your Website
The digital world is always evolving, and with it, the standards and expectations for accessibility. By integrating ADA/WCAG compliance into your site now, you're future-proofing against further changes and ensuring your website remains accessible for everyone.
Cost-Effective in the Long Run
While the initial process of making your site ADA/WCAG compliant may require an investment, it's cost-effective in the long run. You'll save on potential fines and litigation costs, improve your SEO, and attract a larger user base—all contributing to your bottom line.
In conclusion, ADA/WCAG compliance for your healthcare website brings with it a host of benefits. More than just a legal requirement, it signifies a commitment to universal accessibility, inclusivity, and the belief that everyone deserves to access the information and services they need, irrespective of their ability.
Enhanced User Engagement and Satisfaction
An ADA/WCAG compliant website is likely to boost user engagement and satisfaction. Features that are easy to read, understand, and interact with will naturally encourage users to spend more time on your site and explore it more thoroughly. Additionally, if users can easily find and access the information they need, they're more likely to be satisfied with their experience, improving the chances of them returning and recommending your services to others.
Fostering Better Relationships with Patients
In the healthcare industry, where patient experience and trust are paramount, an ADA/WCAG compliant website plays a crucial role in fostering better relationships with patients. Patients with disabilities who can easily access, understand, and use your website are more likely to feel valued and cared for. This sense of being understood and respected can build stronger, more enduring relationships between your healthcare organization and its patients.
Driving Innovation and Creativity
Often, the necessity to make your website ADA/WCAG compliant can drive innovation and creativity. To ensure your website is accessible, you may need to think outside the box and come up with new solutions for presenting information and interacting with users. This innovation can lead to unique, effective ways of delivering your content, setting your healthcare website apart from the competition and providing a memorable user experience.
Boosting Employee Morale
Beyond the external benefits, making your healthcare website ADA/WCAG compliant can also have internal advantages. Employees typically appreciate when their organization prioritizes social responsibility and inclusivity. Knowing that their work is part of an effort to make healthcare information and services accessible to everyone can boost employee morale, engagement, and productivity.
Conclusion
In an increasingly digital world, ADA/WCAG compliance for your healthcare website is not a luxury but a necessity. The benefits of ADA/WCAG compliance extend far beyond avoiding legal consequences; they lie in enhancing the overall user experience, reaching a wider audience, improving SEO performance, and fostering a reputation of trust and inclusivity. With the global focus increasingly on inclusive digital experiences, ensuring ADA/WCAG compliance is a strategic move for the future, contributing significantly to a healthcare organization's success and its mission to provide care and information for all. It's a small step towards a more inclusive digital world, but its impact is vast and far-reaching.