According to the Americans with Disabilities Act (ADA) Title III, WCAG 2.1, ACA, and more, websites are considered places of public accommodation. They must comply with Web Content Accessibility Guidelines (WCAG) 2.1 AA.
Though the best way to avoid losing valuable web traffic and risking an accessibility lawsuit is to design and build your website according to the guidelines, achieving accessibility manually can be very challenging. This is why you need Artificial Intelligence (AI).
Using AI to Unlock Accessibility and Compliance
The WCAG 2.0 and WCAG 2.1 technical standards require websites to be more robust, understandable, operable, and perceivable. There are several great ways of maximizing AI to make the digital world more friendly and accessible for people with disabilities.
Since AI has the ability to mimic a browser, AI-powered solutions can quickly understand the website's structure and the role of different elements, including hidden elements. Here's how AI can help transform your website's accessibility compliance.
1. AI Provides Alt Text and Automatic Image Recognition for the Blind
The sad reality is that several websites have images that don't include descriptive texts for the visually impaired. This lack of alternative text for images also means that blind website visitors are missing out on the information they need.
Today, there are AI-powered solutions that can automatically recognize images and provide alternative text. These solutions can also detect landmarks and faces. AI will also readjust graphical elements such as spacing, color, and fonts for people with visual impairments.
2. AI Provides Automatic Sign Language
Sign language is a compliance requirement under the act, and your website has to meet the set guidelines. This is one of the most challenging requirements to meet, and very few websites have managed to do it.
Additionally, providing sign language for multimedia is not easy. However, AI is making this a reality. AI tools like Microsoft Translator allow deaf people to access audio content online by generating translations and closed captions.
AI will make sign language automatic, which will be a great benefit for users who have hearing loss or are deaf.
3. AI Making Information Easier to Understand
Several people turn to the internet to get information. However, since the internet is full of information, filtering that information before finding what you need can be very challenging. This is one of the challenges that machine learning is working towards solving.
Tech experts are coming up with a solution that can automatically summarize long articles by creating related headlines or short abstracts. This makes the process of finding information easier. AI will help create snapshots or easier-to-read articles for people with reading difficulties, making the website compliant.
4. AI Providing Captioning and Language Translation for the Deaf
Microsoft has the Microsoft Translator app, where users can translate audio into text for captions and other languages. Features such as auto-translate and auto-caption help users who a deaf or hard of hearing, and also those who speak different languages, understand information on websites.
This app is ideal for people who have hearing loss, are deaf, or do not understand English. To stay compliant, you should ensure your website has these features, and AI can help you achieve just that.
Today, there are voice control tools like Amazon Alexa, which allows users to interact with web content and smart devices by utilizing voice as input. Through natural language processing, AI websites can achieve this too.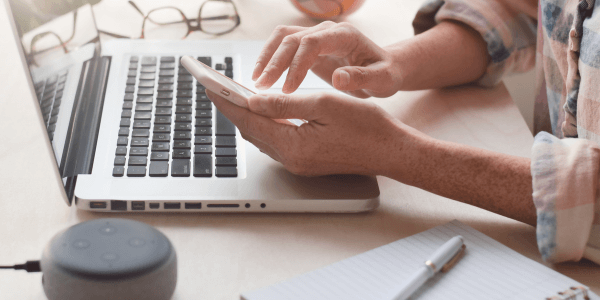 5. AI Making Websites More Accessible
Affective computing is one of the emerging features of AI that can recognize a user's emotional state through various inputs and facial recognition. This can help meet the needs of a user and help them find information easier.
AI is impacting accessibility on web documents, video content, and websites. This is through the use of automated accessibility scanners, which can automatically scan through web documents or pages and record any accessibility issues it finds. Through machine learning, these scanners can identify issues fast by recognizing elements such as issues with the content structure.
Another AI tool is automated accessibility remediation, which can automatically remediate an issue on websites to ensure it is compliant. This is done by automatically monitoring a website and updating it for accessibility based on the changes made.
These two systems learn from templates, website dates, and the individual users on a website. Through code-level changes, the tool will fix compliance issues with higher accuracy.
Wrapping Up
AI presents a scalable and affordable way of making websites accessible to all users, including users with disabilities. Since a fully functional website performs better, you will have a better ROI and avoid compliance lawsuits or a bad reputation. Installing the widget on your website will make it more accessible and compliant within minutes. The widget can also run a free compliance audit and determine compliance within no time. Contact us and learn how to transform your website with this solution.