Whether you are new to business or you are a seasoned business owner, making high sales is a common goal. You need to do a lot to achieve this goal, and ensuring that your prospects and customers can access your services and products easily is one of the most significant things you should focus on.
Web accessibility is a big issue nowadays for anyone in business. In fact, the Americans with Disabilities Act (ADA) was enacted to protect people, especially individuals with disabilities, against discrimination of any kind on matters of accessibility. Similarly, the Web Content Accessibility Guidelines (WCAG) require a website to achieve a certain level of compliance, allowing individuals with disabilities to use websites effectively.
Is your website ADA and WCAG-compliant?
Artificial intelligence can help you achieve such compliance quickly. This article explores how AI-powered compliance can benefit your website and your users.
Keep reading to learn more.
Is Website Accessibility Compliance a Big Issue?
In recent years, website accessibility compliance has become a hot legal topic. One reason is that more people now depend on the internet for daily activities, such as ordering food, booking a doctor's appointment, or even ordering a cab.
Let's look at some statistics.
The total e-commerce market value increased from $449 to $517 billion between 2017 and 2018. Additionally, the e-commerce market value rose to $13 billion by 2021, with online retail purchases rising to $870.78 billion in 2021.
Thus, with almost everyone taking the online route, it has become necessary for businesses to ensure their websites are easily accessible to everyone.
How Can You Use AI to Unlock Full Accessibility and Compliance?
The number of website accessibility lawsuits has skyrocketed in recent years. For instance, there were around 816 cases filed in 2017 citing a lack of compliance with the ADA website accessibility requirements.
In 2018, a 180% rise in such cases was reported, with over 2,200 cases filed. If such statistics are anything to go by, you risk a lawsuit or a demand letter if your website isn't compliant.
So, how can you and your users benefit from AI-powered compliance?
To understand how artificial intelligence can help you achieve compliance and full accessibility, you need to review the WCAG technical standards based on four aspects – robust, understandable, operable, and perceivable.
In simple terms, your website should:
Be easy for anyone to navigate without the need for a simple mouse
Present information in a manner that is easy to find and process
Adjust to the dynamic needs of all users
Easy to comprehend
Whereas you can opt for automated testing to discover and address any potential issues in your website as far as accessibility is concerned, you are likely to be more successful with an AI-powered solution because of its capability to mimic a browser.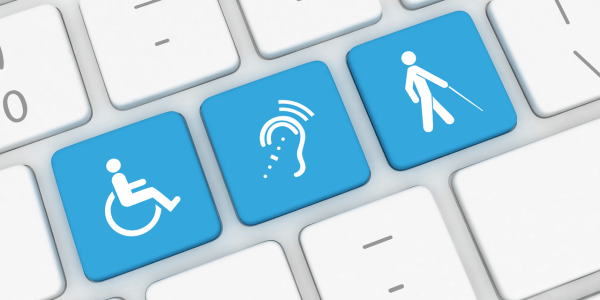 Additionally, such solutions thoroughly scrutinize and understand the structure and varied elements' role in any website.
Here are simple ways how AI can enhance website accessibility compliance:
1. Automatic Scanning
One of the biggest problems with website accessibility is the lack of awareness among business owners that their sites are not accessible. Without this knowledge, it becomes impossible to fix any inaccessibility issues. However, AI through automated scanners can help you and your users tell whether your website is accessible or compliant with the set accessibility standards.
2. AI-powered Overlays
In the past, you had to rely on web developers to remediate your website's code to ensure it was accessible. With the advancement in technology, artificial intelligence can scan, diagnose and correct any available accessibility errors automatically. Your task is to install a plugin and let the overlay do everything for you.
3. Automated Captioning
It can be challenging for individuals with hearing disabilities to interact with your website's video content. However, automated speech recognition (ASR) algorithms nowadays make it easy for such users to consume video content. You don't have to worry about manual captions anymore; the ASR services allow real-time video captioning.
Considering the WCAG principles, some critical actionable things AI can help you and your users do include:
Facilitating audio content descriptions
Optimizing for keyboard navigation through the "Tab' button for individuals with motor impairments
Slightly readjusting graphical aspects such as spacing, colors, and fonts for visually-impaired people
With this and many more functionalities, AI can help you achieve the accessibility requirement standards of a robust, understandable, operable, and perceivable website.
Let's Help You Achieve Full Accessibility Compliance Today
With the increase in lawsuits around ADA and WCAG standards, it has become necessary to ensure that your website complies with the set accessibility standards. It is a practical way of avoiding bad press and expensive litigation.
The good news is that advanced artificial intelligence has created new ways to enhance accessibility. What used to be costly and arduous has now reduced to a fast and affordable process, and more importantly –giving better results.
Our AI-powered solution will make your website compliant with accessibility legislations, including ADA, WCAG 2.1, ADA Title III, Section 508, Unruh Act, ACA, EAA, AODA, HB-1110, and IS5568, among others