Searching for a site, opening it, hitting a dropdown menu, and adding a product to the cart–this isn't the standard experience for all your clients. Millions of Americans have disabilities and impairments that force them to leverage assistive technology to navigate the web.
The following CDC stats highlight the current situation:
Mobility disability affects 11.1% of US adults
Cognition disability affects 10.9% of US adults
Vision disability affects 4.9% of US adults
Hearing impairment affects 5.7% of US adults
Businesses and organizations that haven't considered website accessibility may never get to interact with this vast audience. Moreover, you risk facing WCAG (Web Content Accessibility Guidelines) non-compliance penalties. Fortunately, AI is here to your aid, helping you break down the barriers to accessibility compliance.
A Quick Overview of WCAG Compliance
Making your website accessible isn't just a matter of enhancing your online visibility – it's also a decision that can protect you from brushing shoulders with the law.
The Web Content Accessibility Guidelines form the basis of numerous website accessibility laws. Thus, any site conforming to the latest WCAG Level AA guidelines is deemed reasonably accessible. It's also considered with relevant online content accessibility laws like the ADA (Americans with Disabilities Act) and the European Union Accessibility Act.
Recent years have seen an unprecedented spike in site accessibility lawsuits, facilitated by the ADA's Title III and similar local and state laws. This trend has brought about a new term, "serial plaintiffs," as predatory lawyers file lawsuits to recoup huge legal fees and pay the plaintiffs a tiny percentage of the settlement.
Morality is irrelevant in this case. The available laws leave lots of gray areas when defining what actually entails an accessible site, making the world wide web a hotbed for such litigations. Fortunately, you can quickly achieve full website accessibility and compliance using AI.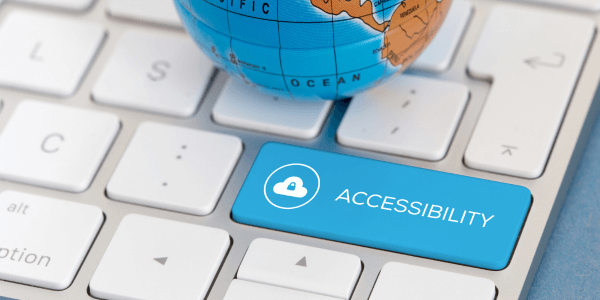 Using AI to Unlock Full Accessibility and Compliance
The most effective approach to accessibility compliance is planning ahead. This entails designing and building with this consideration in mind.
But the strategy may not be practical because you already have your foundation set. Also, the sheer number of requirements makes it almost impossible to achieve accessibility manually.
This is where AI comes in.
Several services specialize in accessibility compliance. They leverage machine learning capabilities that probe and scrutinize all aspects of your website's design to rate and enhance your digital accessibility. The primary features of these tools include the following:
Language Caption And Translation
ASR (Automated Speech Recognition) algorithms create captions and subtitles for video content, allowing access to anyone who needs a substitute for audio. In addition, ASR technology has self-learning capabilities, and the captions improve over time.
A perfect example of such dynamic technology is Microsoft Translate, which leverages Google Neural Machine Translation to enhance its translation's real-time accuracy. The resultant translations are more effective and nuanced sentence- and idea-based compared to word-based equals.
Image Recognition
Users with visual challenges often need help accessing images on digital devices or the web. In such circumstances, AI-powered image processing can come through.
Google Vision API leverages neural image recognition networks to help visually-impaired users gain value from websites. The technology can also identify pictures and determine their safety ratings.
Facial Recognition
Authentication is always necessary to log into a digital platform or device. But some users have impairments that hinder them from providing the correct passwords or PINs. Fortunately, cutting-edge AI tools have enabled the use of facial recognition instead. This provides a convenient avenue for anyone who may encounter hurdles with standard input-based methods, including CAPTCHA verification.
Information Summaries
While the web is filled with image and video content, text-based content still runs the show. Most users resort to screen renders, but accessing long-form text can still be a hurdle with these tools. AI-generated text summaries can be valuable under such circumstances, breaking down the lengthy chunks into smaller, easy-to-understand content. Moreover, the solutions use natural language processing to offer accurate text summaries.
Lip-Reading
Users with hearing impairment find refuge in automated lip-reading algorithms. Google's DeepMind leads in this AI technology, able to identify lip movements for specific words and convert audio or speech into text in real-time. Another good example is Project Euphonia (also by Google), which can decode atypical speech to enhance voice-controlled technology.
User Navigation
Keyboard traps significantly hamper the user experience. But AI tools can come through by testing for, identifying, and preventing the likelihood of such navigational challenges.
Get The Most from AI Accessibility Compliance
Artificial Intelligence continues to transform how audiences access information and interact on the web. Thanks to these revolutionary tools, diverse users can conveniently gain value from digital content, including those who face impairment challenges. It's time to leverage this opportunity to gain online visibility and heed compliance requirements.
Our AI-based web accessibility solution can eliminate the struggle of manual compliance evaluations and allow you to optimize core business. Get a free compliance audit with accurate results in seconds.