The healthcare industry's commitment to providing equal access to all individuals extends beyond just physical locations—it extends to the digital world as well. As per the Americans with Disabilities Act (ADA) and the Web Content Accessibility Guidelines (WCAG), it's imperative that healthcare websites are accessible to all, including those with disabilities. But how do you go about ensuring this accessibility? Let's demystify the ADA and WCAG, and explore practical steps to make your healthcare website accessible.
Understanding the Basics: ADA and WCAG
The ADA is a federal law that prohibits discrimination against individuals with disabilities in all areas of public life. In the context of the digital sphere, Title III of the ADA has been interpreted to mean that all websites should be accessible to people with disabilities.
WCAG, on the other hand, is a set of specific guidelines developed to make web content more accessible. It outlines various levels of compliance (A, AA, AAA), with AA generally being the target standard for most websites.
Practical Steps for Accessibility
Ensure Textual Content is Accessible: Use a readable font size and type. Make sure there's a high contrast between text and background colors. Avoid using color alone to convey information, as this may not be accessible to color-blind users.
Alternative Text for Images: Images on your website should include descriptive alternative (alt) text. This will allow screen reader software to read out a description of the image to visually impaired users.
Video and Audio Transcripts: Any multimedia content, like videos and podcasts, should come with transcripts or closed captions, making it accessible to those with hearing impairments.
Readable and Understandable Content: Ensure your content is easy to understand. Use plain language, avoid jargon, and break up content into smaller sections.
Keyboard Navigation: Make sure your website can be navigated using only a keyboard, for those unable to use a mouse. Important elements should be focusable and display a focus indicator.
Provide Skip Links: 'Skip to main content' links allow users to bypass repetitive content like headers and navigation menus, enabling quicker access to the primary content.
Consistent and Predictable Layout: Keep your website's layout consistent and predictable. This includes having a consistent navigation menu, clearly labeling links, and ensuring pages are logically structured.
Error Identification and Suggestions: If users make an error while filling out forms, these should be clearly identified and suggestions should be given to correct these errors.
Accessible Forms: All forms on your website should be accessible. Labels should be associated with their respective form controls, mandatory fields should be marked, and form instructions should be clear.
Regular Auditing and User Testing
To ensure your website remains accessible over time, regular auditing and user testing are crucial. Automated accessibility checkers can be a starting point, but they can't catch everything. Regular user testing, including with people with disabilities, will help you catch and fix issues that might be missed otherwise.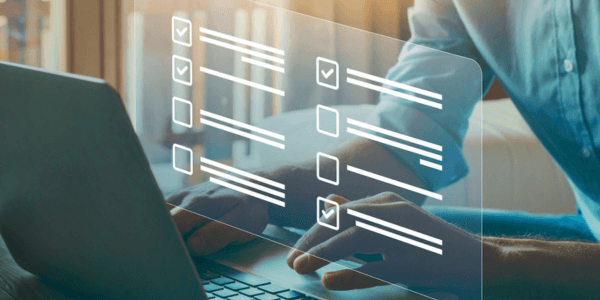 Collaborate with Accessibility Professionals
While the above steps can take you closer to ADA/WCAG compliance, working with accessibility professionals can ensure you're thoroughly compliant. They can conduct a comprehensive audit, suggest changes, and even train your team on maintaining accessibility.
By making your healthcare website ADA/WCAG compliant, you're ensuring everyone, regardless of their abilities, can access the vital information and services you offer. It's a small investment that can bring considerable benefits, from increased user engagement and satisfaction to improved reputation and trust. As we move towards a more inclusive digital world, prioritizing accessibility isn't just a legal requirement; it's a commitment to equality and inclusivity that speaks volumes about your organization's values.
Design Considerations
When designing your website, it's important to consider all types of disabilities – visual, hearing, motor, and cognitive. Here are some design considerations:
Flexible Text: Users should be able to resize text up to 200% without causing functionality issues. This helps users with low vision to read the text without relying on assistive technology.
Avoid Flashing and Blinking Content: Fast flashing or blinking content can trigger seizures in individuals with certain conditions. Keeping your web pages seizure-safe is essential.
Responsive Design: A responsive website adapts to the screen size and orientation of the device it's being viewed on. This ensures your website is accessible on all devices, including mobile phones and tablets.
Clear Call to Action: Make sure that your website's call-to-action (CTA) buttons are clear, concise, and easily visible. This assists all users, especially those with cognitive disabilities, in understanding what to do next.
Create Inclusive Content
Content should not only be accessible, but it should also be inclusive. Use person-first language (like "a person with a disability" rather than "a disabled person"), avoid using stereotypes, and represent a diverse range of people in images and examples.
Continuous Learning and Updating
ADA/WCAG compliance is not a one-time task. It's an ongoing process that requires constant learning and updating. As technology advances and the way people interact with the web evolves, accessibility practices will need to evolve as well. Stay informed about the latest accessibility trends and guidelines to keep your website compliant.
Conclusion
Making your healthcare website ADA/WCAG compliant is a vital step towards fostering inclusivity and providing equal access to healthcare services. It's about considering the needs and experiences of all users and taking active steps to accommodate them. Not only does this compliance avoid potential legal repercussions, but it also broadly opens your services to a wider audience, enhances user experience, and promotes your reputation as a healthcare provider that genuinely cares for all. It's a journey towards a more accessible and inclusive digital world, one healthcare website at a time.