In the US, the Americans with Disabilities Act mandates that all websites be built to be accessible to all. You must do so to avoid expensive lawsuits. In today's world, there is a narrow gap between professional lives and personal values. As a result, people want to be associated with brands that align with their core values and beliefs. This is evidenced by a survey that indicates that 62% of customers prefer to buy from a brand that will take a stand on societal issues, and 47% are willing to walk away from a brand if they are not aligned with the brand's message or actions. In 2018 alone, 2258 lawsuits were filed against digital platforms inaccessible to people with disabilities. This 177% year-over-year increase does not even include the numerous demand letters issued against site owners.
To save your business the risk of a legal battle and uphold a good brand reputation, you cannot risk ignoring the WCAG compliance requirements. Luckily, AI can do a lot to make your digital products inclusive. Here are some of the reasons you should use it in your accessibility strategy:
Benefits of Using AI for Accessibility Compliance
Improves Usability
Digital accessibility does not just help the estimated 1.3 billion people living with disabilities worldwide. It helps everyone. Consider AI-powered accessibility features like captions designed to assist the deaf or people who are hard of hearing. The same technology can help you learn a new language, assist those with learning disabilities and help individuals with attention deficit or autism to maintain focus. Captions also prove valuable in specific settings, like in noisy environments or situations where silence is required, like in libraries.
A website with superb usability accommodates all visitors, irrespective of their devices or physical or mental ability. Artificial intelligence reduces the need for human intervention in powering great user experiences. Instead, it powers functions like data analysis to create design deliverables that will improve the user experience design process and the user experience. A good example is voice assistants such as Siri and Alexa, which after obtaining and analyzing large amounts of data from users, can reliably predict human behavior and respond accordingly.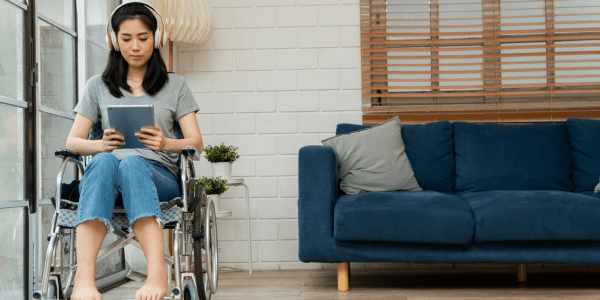 Enables Quick Detection of Accessibility Issues
AI technology powers accessibility-testing tools to automatically check how well your website or digital products comply with the web content accessibility guidelines (WCAG). The tools scan your website pages and check them against the WCAG guidelines to establish your level of compliance. In addition, the tools can also help you identify what exactly you need to improve to make your digital offering more compliant. Accessibility is a continuing process, and new issues are bound to arise right after you have implemented some changes. This is why it is essential to test your site often. Automated AI-based web accessibility testing provides an efficient and reliable way to stay on top of WCAG compliance.
AI automated testing tools are a great starting point for brands that want to understand how well they comply with the WCAG guidelines. They make the process faster and effortless, especially when scanning large sets of data, such as multiple site pages. The problem with non-intelligent testing tools is that they rely on strict rule sets to operate. Therefore, when they encounter accessibility issues that fall outside the set rules, they will not be able to identify or report on it. However, AI advanced testing tools improve the process by leveraging technologies like machine learning to mimic users' natural behaviors and provide more thorough reports.
AI Makes Accessibility Easier to Achieve
Although human intervention remains a critical component in enabling digital accessibility, automation simplifies some processes in ensuring digital accessibility. First, it frees up human labor and allows them to focus on other core operations while AI tools take over the auditing and testing processes for compliance with WCAG. This also makes the process faster and consequently reduces the cost of accessibility testing and remediation. As a result, more businesses can improve their website, and digital product accessibility as the cost of that investment is made more affordable.
Before AI took over, prioritizing web accessibility meant that businesses had to shell over a significant part of their already limited funds over a long period before achieving good results. However, AI now means that accessibility can be achieved at an affordable rate, with a fast turn-around and flawless results that will open your business to a broader demographic.
As seen by the latest trends, AI technologies and their advancements have the potential to make digital products more accessible to ensure independence and equal access. In addition, the features and tools it provides are valuable to users of digital products and make it easier for organizations to achieve compliance. Contact us today to learn more about AI-based accessibility compliance solutions or request a free audit to assess your compliance level.