The digital landscape is an integral part of the healthcare industry, from scheduling appointments and managing health records, to providing health information and facilitating telemedicine. As such, the accessibility and usability of healthcare websites directly impact the quality of care patients receive. By adhering to the Americans with Disabilities Act (ADA) and the Web Content Accessibility Guidelines (WCAG), healthcare providers can significantly improve the user experience for all patients, not just those with disabilities. Here's how ADA/WCAG compliance contributes to an enhanced user experience.
Clear and Understandable Content
An ADA/WCAG compliant healthcare website ensures that content is clear, concise, and understandable. This is accomplished through the use of plain language, the avoidance of jargon, and the inclusion of definitions for medical terms. The result is a website that is easier for all users to understand, thereby reducing confusion and frustration.
Enhanced Navigability
ADA/WCAG guidelines require websites to be fully navigable using keyboard-only inputs, which is beneficial for individuals with motor disabilities who cannot use a mouse. However, this also improves the user experience for all visitors, making the website easier and more intuitive to navigate. In addition, providing 'skip to main content' links and ensuring a consistent and predictable layout can significantly speed up navigation, saving users' time and effort.
Visual and Auditory Accessibility
Visually impaired users benefit greatly from alternative text for images, adjustable text size, and high contrast between text and background— all fundamental requirements of ADA/WCAG compliance. Similarly, providing transcripts or closed captions for audio and video content not only aids deaf or hard-of-hearing users but also benefits users in noisy environments or those who prefer reading over listening.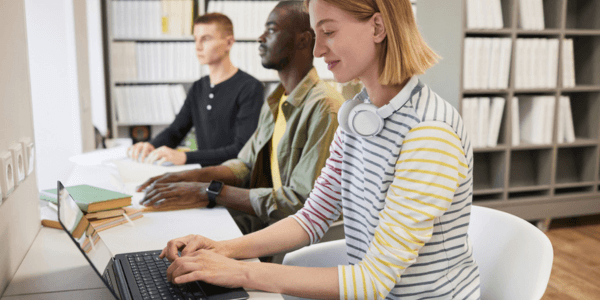 Reduced Risk of Errors
ADA/WCAG compliance necessitates clear error identification and suggestions for correction. This is particularly important in healthcare websites, where users often fill out forms for appointments, prescriptions, and personal health information. By providing immediate, clear feedback when users make an error, you can help them complete their tasks successfully, reducing frustration and enhancing their overall experience.
Device Compatibility
Responsive design, a facet of WCAG compliance, ensures that websites are accessible and functional across a range of devices, including desktops, laptops, tablets, and mobile phones. This flexibility allows users to access your healthcare website whenever they need, using the device that's most convenient for them, enhancing their user experience.
Inclusive Design
Perhaps the most significant impact of ADA/WCAG compliance on user experience is the fostering of an inclusive design. An inclusive website is one that acknowledges and respects the diverse needs and experiences of its users. In the context of healthcare, this sends a powerful message to patients — that their health and wellbeing matters, regardless of their abilities. It creates a sense of belonging and inclusivity, which can significantly enhance the user experience and, by extension, the relationship between healthcare providers and their patients.
In conclusion, ADA/WCAG compliance does more than just meet legal requirements and avoid potential litigation. It plays a pivotal role in enhancing the user experience for all patients. By creating a more accessible and inclusive digital environment, healthcare providers can provide better care, promote patient satisfaction, and ultimately, improve health outcomes. Compliance with these guidelines is a reflection of a healthcare provider's commitment to all of their patients and an investment in a more inclusive and accessible future for healthcare.
Empowerment Through Autonomy
ADA/WCAG compliance equips users with the ability to control their browsing experience. By offering features like adjustable text size, color contrast controls, and the ability to pause and play multimedia, users can modify the interface to suit their specific needs. This autonomy can make users feel more comfortable and confident while navigating your website, significantly improving their overall experience.
Ease of Use
Websites that adhere to ADA/WCAG standards are fundamentally easier to use. Logical navigation, clear instructions, predictable actions, and the elimination of time limits for completing tasks, all contribute to an effortless user experience. This ease of use can encourage users to spend more time on your site, boosting engagement and facilitating better patient outcomes.
Efficient Information Retrieval
Accessible websites offer efficient information retrieval, a critical aspect of any healthcare website. Patients often visit healthcare websites to seek important health-related information. By providing a well-structured, intuitive layout and a robust search function, ADA/WCAG compliant websites ensure that users can find the information they need quickly and effortlessly.
Multi-Modal Content
Offering information in multiple formats is another way ADA/WCAG compliance improves user experience. Providing text alternatives for non-text content and vice versa caters to different learning preferences, making the information more digestible for all users. This multi-modal approach can improve comprehension and retention of health information, leading to more informed patients.
Building Trust and Loyalty
A website that is accessible and easy to use signals to users that their needs are considered and valued. For healthcare providers, this can build trust and loyalty with patients. An ADA/WCAG compliant website can be seen as a reflection of your care and commitment to your patients, making them more likely to return and recommend your services to others.
Conclusion
Improving user experience is about removing barriers and creating a digital environment that is welcoming and accessible to all. By ensuring ADA/WCAG compliance, healthcare providers can deliver an exceptional user experience that goes beyond aesthetics and functionality. Compliance demonstrates empathy, inclusivity, and a deep understanding of diverse patient needs, helping to cultivate trust and patient satisfaction. More than a compliance checklist, ADA/WCAG standards provide a roadmap to creating a healthcare website that truly serves all patients and enhances their journey towards better health.